The Planet Fixer Digest Videos
All videos collected by The Planet Fixer Digest over time!
1
A Trifilm Story: The Q-Drum
Jul 23, 2015 - youtube.com -

24
Q-Drum re-invents the wheel by adding water to solve a water transport crisis for the world's poor. Directed/Produced by Aaron Straight, Senior Producer- Kim Lawrence, DP - Ian Jay, DPII - Guido Ronge, Edited by Miles Lippold/Doug Lyons/Todd Mueller, Executive Producer-Mark Dickison, Music composition by David Schommer.
Jul 23, 2015 - vimeo.com -

20
This is "Sanergy Overview" by Ani Vallabhaneni on Vimeo, the home for high quality videos and the people who love them.
3
The Use of Barn Owls and Kestrels as Biological Control Agents
Jul 23, 2015 - youtube.com -

22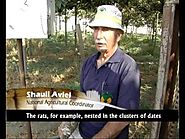 The use of Barn Owls and Kestrels as biological control agents in Israel - Tel Aviv University
4
Nano Ganesh Rural Development
Jul 23, 2015 - slideshare.net -

18
Nano Ganesh Founded by Santosh Ostwal, CEO Rajashree Ostwal, DirectorOssian Agro Automation Pvt. Ltd. (2010) Formerly ...
Jul 23, 2015 - youtube.com -

19
Bad federal policy and intensifying storms are washing away the rich dark soils in the Midwest that made this country an agricultural powerhouse and that remain the essential foundation of a healthy and sustainable food system in the future.
6
'The Man Who Stopped The Desert' trailer
Jul 23, 2015 - vimeo.com -

22
Winner of 7 international film awards, The Man Who Stopped the Desert is a one hour feature doc telling the story of Yacouba Sawadogo, an African peasant farmer who has pioneered a technique that reverses the process of desertification. Made by Mark Dodd, 1080 Films.
7
Seeds Of Death - Full Movie
Jul 23, 2015 - youtube.com -

17
LIKE SEEDS OF DEATH ON FACEBOOK http://www.facebook.com/seedsofdeath In preparation of the global March Against Monsanto, you are invited to watch our award-winning documentary Seeds of Death free. http://www.march-against-monsanto.com/ The leaders of Big Agriculture--Monsanto, DuPont, Syngenta--are determined that world's populations remain ignorant about the serious health and environmental risks of genetically modified crops and industrial agriculture.
Jul 23, 2015 - youtube.com -

23
Video presentation - A Gold Mine in a Rubber Waste
9
Farouk Tedjar & Jean-Claude Foudraz - Method for recycling batteries
Jul 23, 2015 - youtube.com -

21
Billions of lithium-ion based rechargeable batteries are produced every year to power our cell phones, laptops and MP3 players. Discarding them can add up to huge amounts of waste.